The Reagan Name
It's a certainty that the Reagan name originated in Ireland ... probably from a guy named Raigan (sp?) who was nephew of the great Irish king Brian Boru (pictured at right) who in the eleventh century led his men to defeat the Vikings at the battle of Clontarf and free the Irish from Viking rule that had oppressed them for more than a century.
Former President Ronald Reagan's great-great-grandfather, Thomas O'Regan, could supposedly trace his way back to that original Raigan. Don't know if my Irish progenitor, Timothy Ragan, could do the same, but probably.
The following article was attached to an old message from the late Michael Ragan, a distant cousin who was quite a genealogist. The message was dated Oct. 8, 1997, and in it he thanked his 5th cousin Seth Ragan and his wife, Vonna, for the info. It's one of the best early histories of the REAGAN surname and its many variations I've found.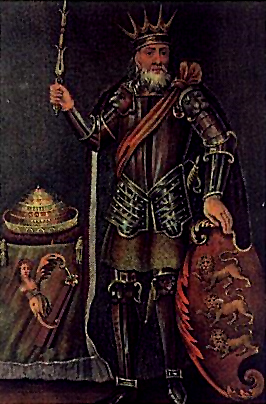 ================
THE NAME AND FAMILY OF REGAN OR REAGAN
Compiled by THE MEDIA RESEARCH GROUP
Washington, D.C.
The surname REGAN or REAGAN was derived in most cases from the Celtic Riagan or Riagain which means "kinglet", but in others is said to have been derived from the Irish Raighan, meaning "to biggit" (inhabit), and from Raigan, meaning "religious."
In ancient Irish and early American records the name appears in the various spellings of O'Riagain, O'Riagan, O'Reagain, O'Riaghan, O'Riaghain, O'Regaine, O'Riegaine, O'Regane, O'Regan, Riagan, Reagain, Reagin, Reagen, Regen, Ragon, Ragin, Ragan, Ragen, Ragins, Ragens, Reggon, Reagon, Reagan, Regan, and others. Of the forms mentioned, the last two are those most frequently in evidence in America in more recent times.
The O'Regans of Meath were a branch of the southeren Ui Neill and one of the four tribes of Tara. The heads of this line were lords of South Breagh, County Meath, and of the North of the present County of Dublin, prior to the time of the Anglo-Norman invasion of Ireland. They were a powerful family in that vicinity. They trace their descent from Raighan, son of Cineth, son of Flann Da Congall, a descendant of Heremon, one of the first Milesian Monarchs of Ireland. In the year 1029 A.D. Matgamain O'Riagain, King of Breagh, won a noble victory over Amhlaoibh, son of Sitric, King of Dublin.
The members of the family were soon afterwards dispersed throughout Ireland and one branch became chiefs of Hy
CONTINUED >