James C. Reagan
Great-great-grandfather 1820-1870
In April 2001, old census data finally shed some light on this man. Since my great-grandfather William Andrew Reagan, who died in 1932, rarely spoke of his family, his descendants didn't know his father's name but speculated it was "Andrew." The 1850 Navarro census says otherwise. His name was James.
A distant relative, Johnnie Ellen Reagan Edwards, looking for one of William's "adopted" brothers, her great-grandfather, confirmed the identity that showed up again in the 1860 census. (Are you related to James C. Reagan? Direct Descendants)
James was born in Tennessee and migrated to Texas, probably through Missouri. He married Emily Spiva (5/21/1830-1859) on Sept. 4, 1844, in Fannin County, Texas, just in time for my great-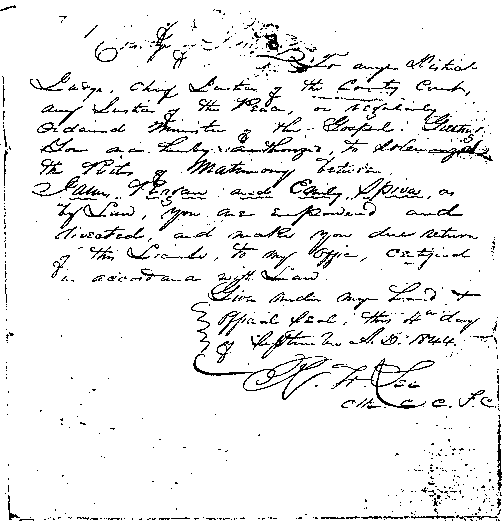 grandfather to be born a native Texan in 1845. "J.C." Ragan was designated a farmer (James Ragen) in the 1860 Navarro census, with his property valued at $3,000 and his personal estate worth $2,185. (Click Here for best scenario for identity of James' father).
When Emily died during childbirth at age 29 in 1859, James C. married Eliza P. Cockrell on May 30, 1860, right before the census was taken in June of that year. They had several more children, but according to the next census, he had died by 1870. In fact, the "Navarro Leaves and Branches" has a death record of him, dying in 1870, at age 50, of dropsy. It says he was from Missouri, but too many other records confirm Tennessee to put any stock in that. Someone remembered he came to Texas "from Missouri," but he wasn't born there. He lived just long enough to see the birth of his last children, twin girls Laura and Elizabeth, who showed up as 8-months-old in the August 1870 census.
Many Reagans evidently came to Texas from Tennessee at about the same time James C. did. His son, William Andrew, was born in Anderson County, Texas. That's very close to Navarro County. That was also the same year Anderson County came into existence (making record-tracking hard), and a lot of the immigrants who settled there that year were from Tennessee. There is also a James Reagan of about the same age who died in Alpine. He supposedly was very mean, and there is a story somewhere on the Internet about him and Judge Roy Bean. Reagan stands him down over Bean's son.
James and Emily's marriage license.
See readable text at end of article.