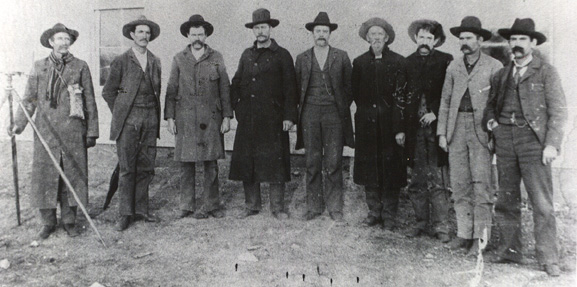 William L. "Brack" Mitchell (Jan. 18, 1829 - April 23, 1899)
NEW LINK: The "Brack" and Davy Crockett connection
NEW INFO: I found the following entry about "Brack" in the Texas Genealogical Records, Ellis County, Volume 16, 1800-1962: "It was learned from W.L. (Brack) Mitchell that he came from Dyer County, Tennessee, in 1845, and located at Chambers Creek, three-fourths of a mile south of Forrest's Store. His father-in-law, William R. Howe ... also emigrated from Tennessee in 1843 and settled at the same place. Their neighbors at the time were few and far between. Among them were Tom I. Smith, Jeff Jordan, Mrs. Beaty of Mill Creek; Bob Mayfield, near the Reagor Place; and Mr. Mitchell (Brack's father?) near Red Oak. This was five years before the organization of Ellis County."
Brack's Death
The following story appeared on the front page of The Abilene Reporter issue dated April 28, 1899. The paper was a weekly back then, and it published five days after his death.
Back in those days, ads appeared on the front page of papers. One that day was from The Bee Hive, where they were having a "Shoe Clearing," where men's two-dollar shoes were on sale for $1.25, and infant shoes "worth up to 35 cents were on sale for 15 cents.
His great-great-grandson, Danny Reagan (me), worked for that same paper, now known as the Abilene Reporter-News.
The story is transcribed verbatim from a printout of microfilm. It starts on the NEXT PAGE >
Brack, as one of the community leaders in Nolan County, a few years before his tragic death.